Buy one and get one free!
Buy 2 or more bottles of the same ADD-care® product
and save $20.00!
When you buy two or more bottles of any of the ADD-care® products, you will save $10 on each bottle, whether you buy the capsules or the liquid. Conditions: buy two bottles of the same ADD-care® product.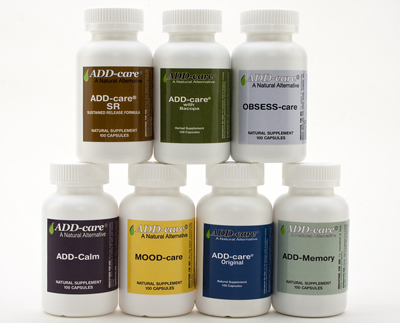 ADD-care® is a natural homeopathic supplement, containing specially selected natural and homeopathic ingredients that may help relieve hyperactivity, distractibility, impulsiveness, and general memory difficulties in both children and adults. Formulated by a clinical psychologist and a naturopathic doctor, ADD-care® offers natural supplement support safely and quickly.
ADD-care® products are especially formulated, offering natural support.
| | |
| --- | --- |
| | Hyperactivity |
| | Impulsiveness |
| | Inattention |
| | Forgetfulness |
| | Trouble Listening and Concentrating |
| | Difficulty Being Organized |
| | Anxiety |
| | Reading and Writing Problems |
ADD-care® is available in both capsule and liquid form!
As seen in

and

Get ADD-Care products near you!
Available at these stores: